Dave Hakkens | Precious Plastic
Dave Hakkens is the designer of Precious Plastic, a machine that allows anyone to recycle plastic at home. It was his graduation project (at Design Academy Eindhoven) in 2013 and version 3 can currently be seen at Sectie-C, as part of Dutch Design Week (DDW). We talked to him at his workshop, Helmond's old post office.
 
The Precious Plastic machine transforms plastic into a raw material, which makes it possible to create a new product, such as a vase or a bowl. You can also use the raw material to print in 3D. With this project, Dave wants to do something about the worldwide plastic waste problem. At the moment, billions of pounds of plastic lies on the bottom of the ocean. Plastic that gets eaten by fish, pollutes the environment and eventually returns to your plate.
"Precious Plastic was my graduation project. I wanted everybody to build their own recycling machine"
Precious plastic is an open source project. What is your experience with that?
"Precious Plastic was my graduation project. I wanted everybody to build their own recycling machine, so I put all information online. All you need to do is download the instructions and you can get started. But as it turned out, it was not that simple. People need more explanation and context before they pick it up."

Dave regularly posts videos on YouTube, in which he explains which type of plastic is actually suitable for recycling or how to create your own desk chair. The movies are definitely worth viewing.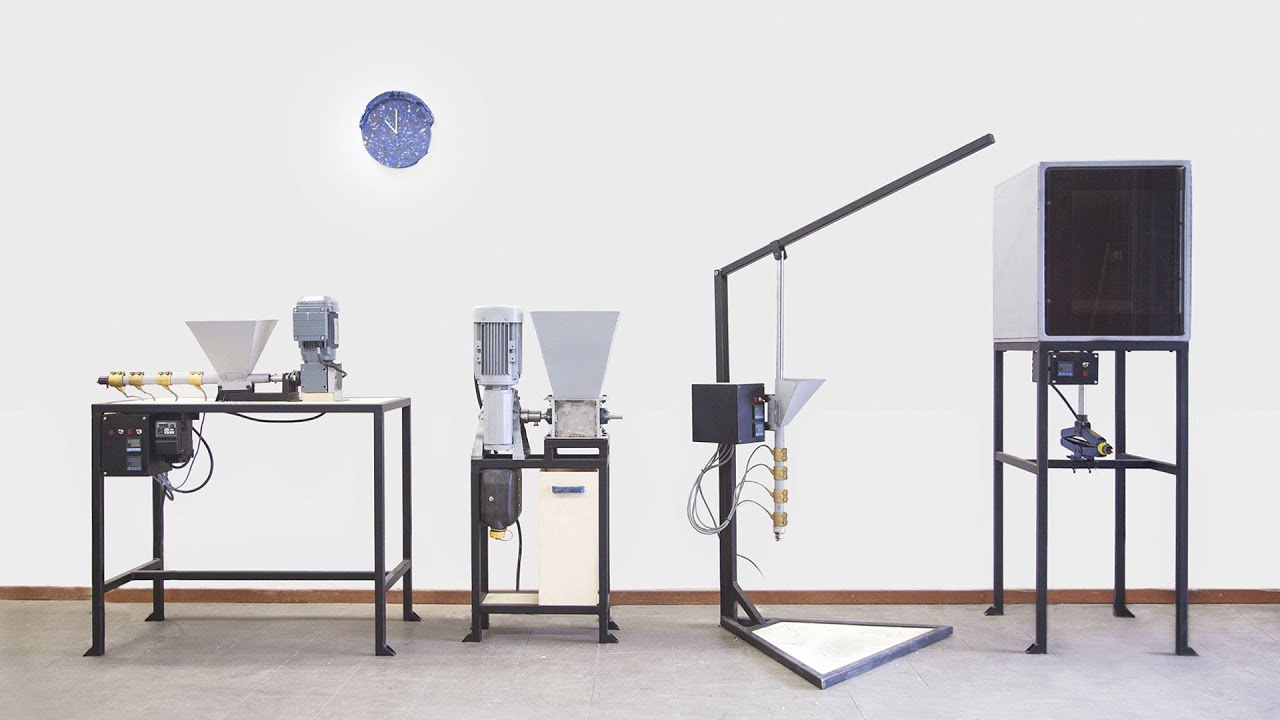 So people need more?
"Yes, people like explanations. We also noticed that there were enthusiasts who supported the project, but for whom the threshold was too high to actually build the machine. And vice versa, a group that could build the machine, but with no access to the resources. We have slowly created an online community around Precious Plastic, where all these enthusiasts are now able to find each other and exchange tips. Worldwide, about 100 people have built a Precious Plastic machine. "
How do you feel about your machine now being the topic of an online community?
"Every time someone makes a machine, I see it as a compliment. It's pretty special that anyone in the world can build their own company around Precious Plastic. I think it's cool. "
How easy is it to make a machine?
"That depends a little on how handy you are, but if you want, you can build it in a few days. You can find a lot of parts on the scrap. I think it'll only cost you 100 to 200 euros in total. Nevertheless, the threshold remains too high for some. We want to create a starter kit in the next version, so you can get started right away."
Do you run the whole project by yourself?
"I did in the beginning, down the road other people joined. At some point, I won a prize of 10.000 euros in Eindhoven. I then made a call: you can have 10.000 euros if you are able to build the machine for me. A guy named Kees from Zeeland responded. An older man, unemployed, but a real machine-builder. He helped me a lot. "
You recently went travelling for six months. Where did you go?
"Mainly Asia, I didn't plan too much in advance. I only decided on where to start: the Maldives. I was invited by one of the resorts to come and talk about waste. And I visited the garbage island." He explains: "The Maldives consist of a number of islands with luxury accommodation. And one waste island, where all the resorts dump their garbage. When I'm on holiday, I prefer visiting the local garbage dump over going the beach. "
Dave Hakkens is designer, YouTuber and founder of Phonebloks and Precious Plastic. The latter could be admired at Sectie-C during DDW 2017. All information on building the machine is free to download from the website.